<!TT>

Snake is a very simple game for Workbench.

You must avoid the "deadly mushrooms" that grow very quickly around you, and avoid your tail too... and you cannot stop, of course :-)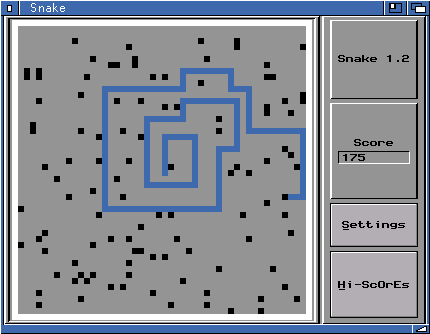 I made this game during july 1996 but never released it (because I never finished the highscores routines). I just improved it a little bit and updated some texts before putting it here.
Features include:
errr.... fun ?
wellll... you can choose any size.
hmmm.... highscores are not implemented :-)
ahh.... maybe perhaps it could be addictive
no graphics at all !
ugly topaz/8 !
the graphics can adapt to your screen resolution (OK on 640x256 and on 640x512)
oh, I said there was no gfx.. yes... But, well.
it won't crash, too !
New: version 1.3 (26.05.2003), now works on 15+ bits screens. Uses Delay() instead of WaitTOF() in order to work under MorphOS. The score isn't updated correctly under MorphOS.
Download it: